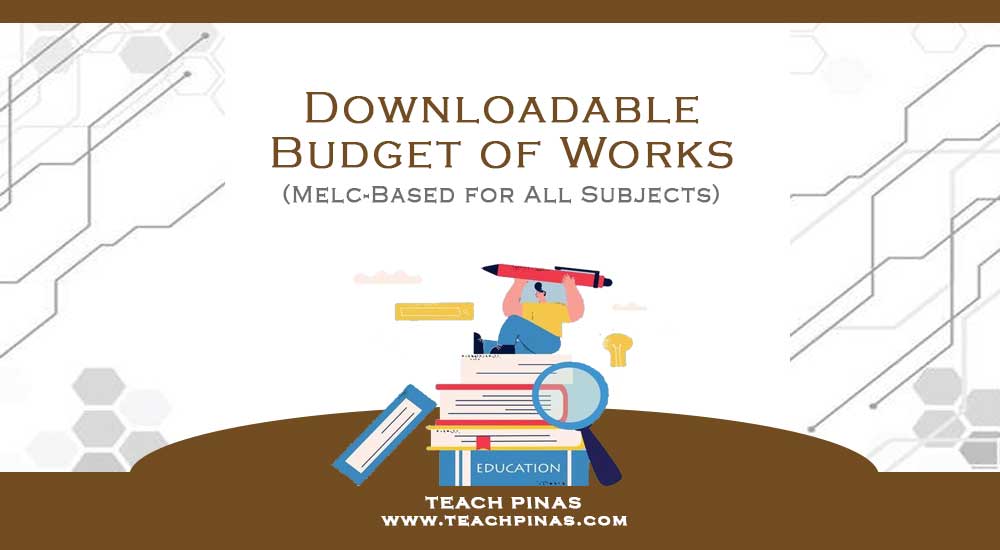 The DepEd Budget of Work (BOW) is a reference for teaching in preparing daily or weekly lessons. It is considered one of the teaching resources for teachers who are handling multigrade classes. The budgeted series of works contains different competencies, skills, activities with time allotment, and objectives under the K-12 Basic Education Curriculum. These Budget of Work DepEd MELC Based BOW for All Subjects are downloadable files commonly saved as PDF files. Get your free copies below:
The following are the available DepEd Budget of Work (BOW) for: Kindergarten, MTB-MLE, Filipino, English, Science, Mathematics, Araling Panlipunan (AP), Edukasyon sa Pagpapakatao (EsP), Music, Arts, Physical Education and Health (MAPEH), Edukasyong Pantahanan at Pangkabuhayan (EPP), and Technology and Livelihood Education (TLE), Senior High School – Core Subjects, Senior High School – Applied Subjects.
Note: These MELC-Based Budget of Work (BOW) were issued in Region IV-A CALABARZON enclosed in the Guidelines on Implementation of MELCs PIVOT Budget of Work in All Learning Areas for School Year 2020-2021.
Downloadable Budget of Work DepEd MELC Based BOW for All Subjects
Download these Budget of Work DepEd MELCs Based BOW for All Subjects this School Year 2023-2024. These files are also printable in pdf format. Get your free copy from the download links below.
Educational Videos, Tutorials, and more
We also invite you to subscribe to our official YouTube channel (Teach Pinas). On that channel, we will post more Educational Videos, Tutorials, Tips, News and Updates, and many more. Please consider subscribing from this link: Teach Pinas Official YouTube Channel
Our team, the Teach Pinas Team, through this website, YT channel, and social media accounts has been providing free and accessible downloadable materials for teachers since then. We aim to continue helping all teachers in this county, so we also ask for your support. If you want to contribute, please don't hesitate and submit your content via our Contribute Page.
If you want to receive instant updates directly to your device, kindly subscribe to our pop-up notification by clicking the notification bell icon at the bottom-right corner of your screen. More useful content is coming soon, so keep visiting!
Disclaimer:
TEACH PINAS is not affiliated, associated, endorsed by, or in any way officially connected to any government organization. All the information on this website is published in good faith and for general information purpose only. We, the admins/staff, do not claim any ownership of some content posted here unless otherwise stated. If you own rights to those and do not wish them to appear on this site, please contact us via e-mail: [email protected] and we will take necessary actions ASAP. TEACH PINAS does not make any warranties about the completeness, reliability, and accuracy of this information. Any action you take upon the information you find on this website (www.teachpinas.com), is strictly at your own risk. TEACH PINAS will not be liable for any losses and/or damages in connection with the use of our website. Read more… Enter your email address below to get updates via email: